Regular price
Sale price
£36.99 GBP
Unit price
per
Sale
Sold out
Our Premium Yemeni Sidr Honey  is highly prized and sought after for several reasons, making it a unique and valuable product. Here are some key reasons why our Yemeni Sidr honey is popular:
Sidr Tree (Ziziphus spina-christi): The honey gets its name from the Sidr tree, also known as the Christ's Thorn Jujube. These trees grow in the arid and mountainous regions of Yemen, making them relatively rare and contributing to the exclusivity of Sidr honey.
Flavor and Aroma: Yemeni Sidr honey is well-regarded for its rich and distinctive flavor, often described as strong, aromatic, and herbal. The unique taste is attributed to the nectar collected by bees from the Sidr tree blossoms.
Medicinal Properties: Sidr honey has been used in traditional medicine for centuries in Yemen and other parts of the Middle East. It is believed to have various health benefits, including wound healing, antibacterial properties, and aiding in digestive issues.
Cultural Heritage: Yemen has a long history of honey production, and honey plays an essential role in Yemeni culture and cuisine. Sidr honey, with its regional connection and specific production process, holds significant cultural importance in Yemen.
Limited Harvest and Production: The Sidr tree has a limited flowering season, and the honey is produced in small quantities. Additionally, the traditional harvesting methods, which often involve climbing tall trees, make the honey production labor-intensive. As a result, Sidr honey remains relatively rare and expensive.
Care Instructions

Keep it in a cool location away from direct sunlight
Share
View full details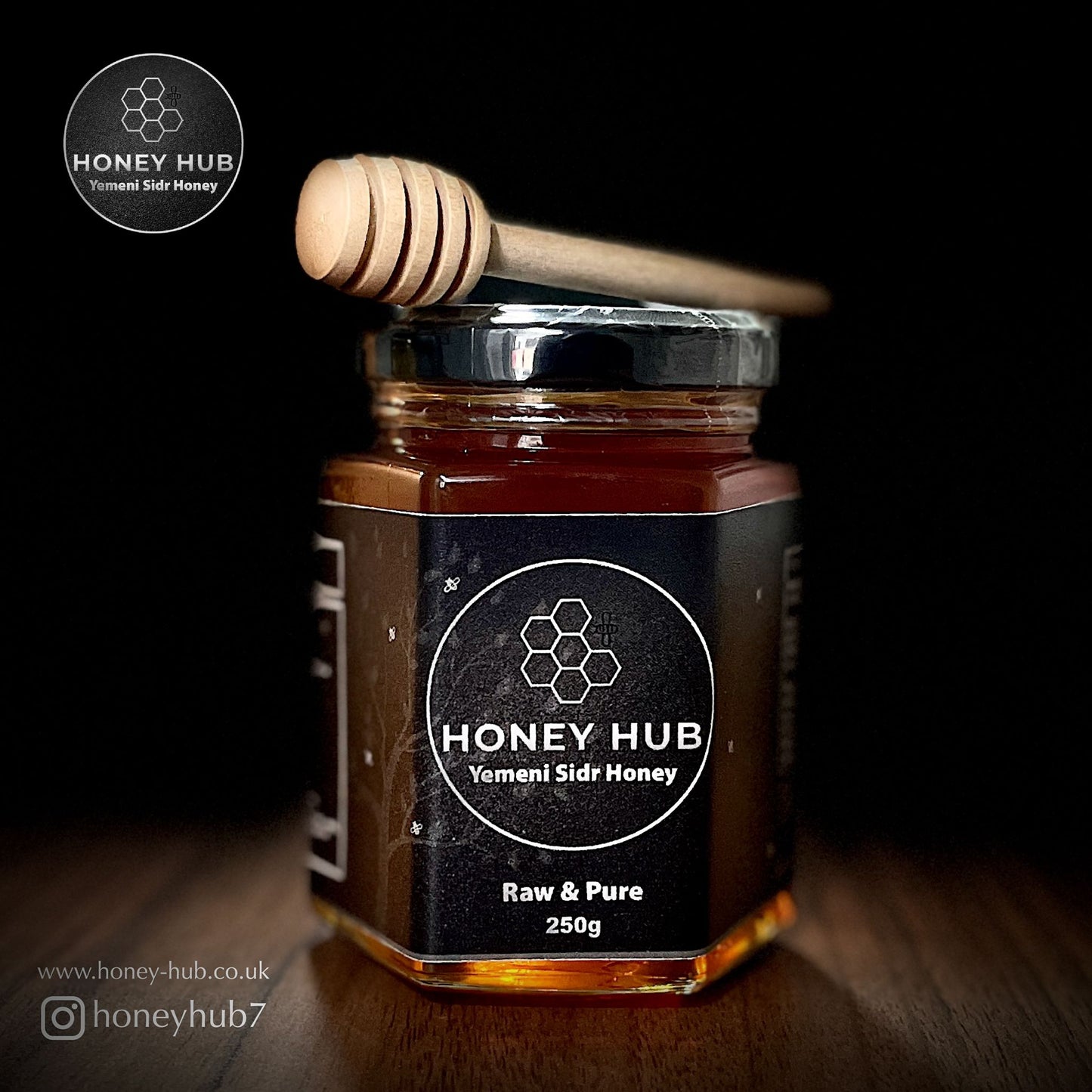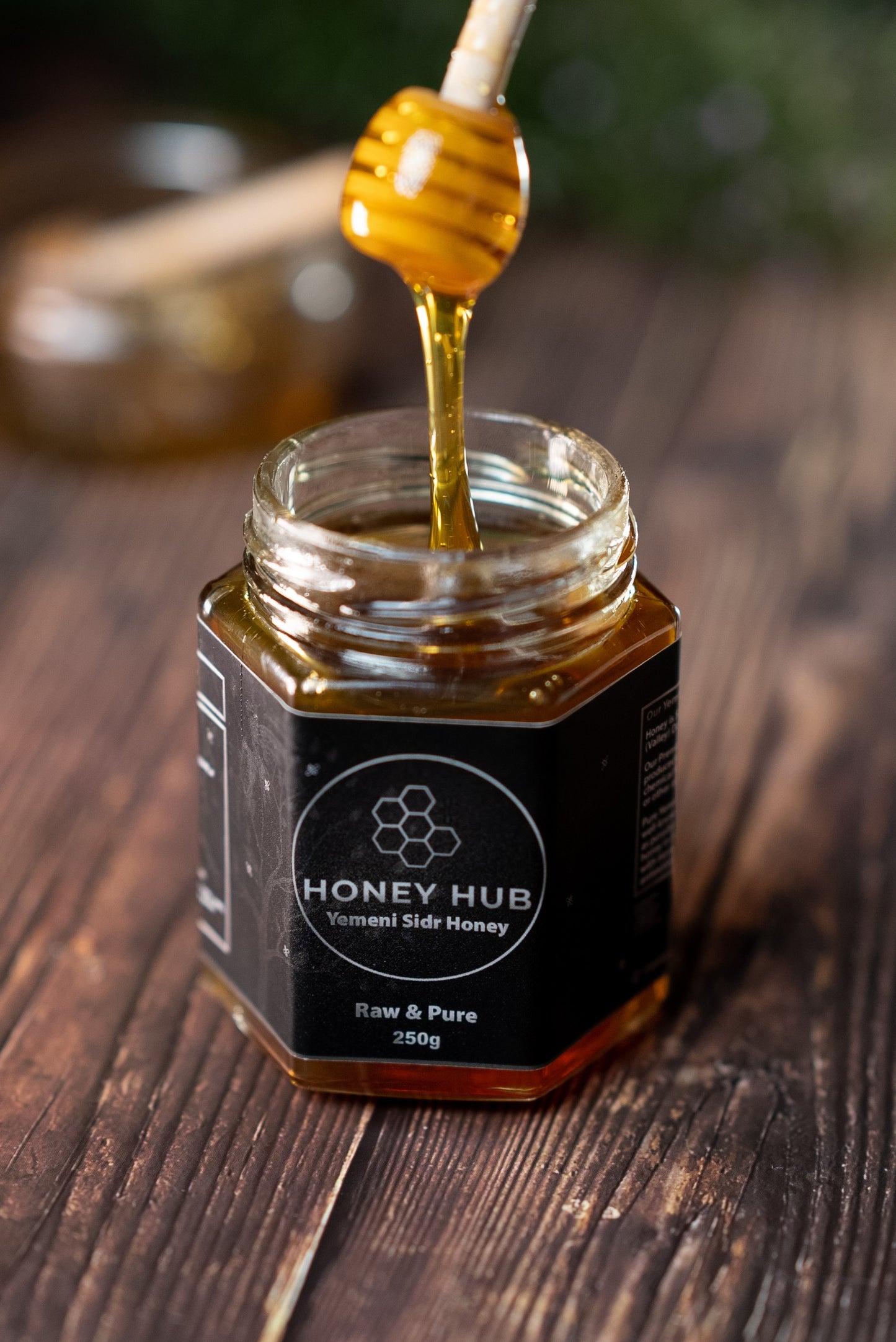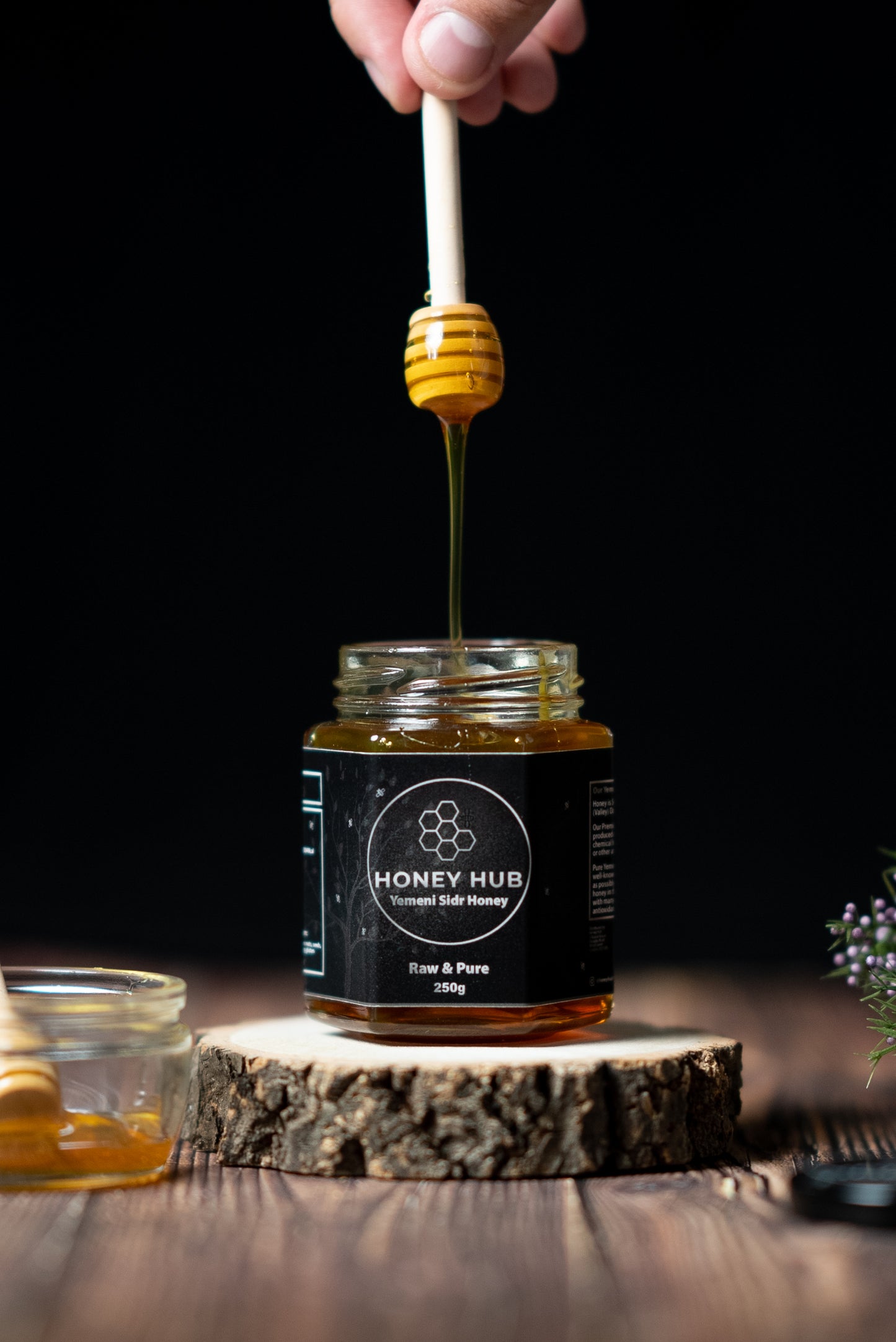 Cinnamon honey the best I've ever had!!!
Absolutely beautiful honey well packaged well presented, beautiful unique taste 😋 Absolutely will be purchased again and again can't wait to try all the products
Amazing honey
Such pure and good quality honey. A treat in my home with the elders and my little one. Comes in a lovely safe packaging and delivery is quick. Highly recommended it. Must try the cinnamon acia honey also! The cinnamon sticks are handy to use in the end infused in my overnight oats and they carry so much flavour!
Liquid Gold
The quality of this was amazing.
Exceeded expectations and the best sidr I've had.
Very good honey
My delivery was delayed so I was pretty upset at first but honey hub went out of their way to make sure it got delivered so I can appreciate that, it came in beautiful packaging and the honey is amazing Allāhumma bārik
بارك الله لك في اهلك ومالك
Purest honey about!
Probably the best Sidr honey I've ever had! Brilliant quality and you can feel and taste the purity. Definitely recommend.